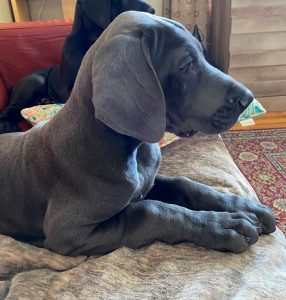 Athena from Mimi's litter has a home!
Yay, Me!!!  I'm going home with my new Mom in Missouri!  She is very active and will take me for lots of walks and just everywhere she goes – even traveling.  I am so happy I will be living with my new Mom who has lots of Dane experience and she will help me grow up to be a wonderful companion to her and a great friend to all the new people and dogs I will get to meet.
Thank you Foster Family for taking care of me and my brothers and sisters while the Rescue found my new Mom!!