We rescue, rehabilitate and rehome Great Danes and Dane mixes that have been abused, abandoned, and neglected.
Serving Colorado, Kansas, Nebraska, Utah, Wyoming, Idaho, Montana, New Mexico, Arizona, Oklahoma, Iowa, Missouri and South Dakota
We are a 501(c)3 Non-Profit Organization and PACFA Licensed with the CO Dept. of Agriculture
55
Successful Adoptions in 2020
52
Successful Adoptions in 2019
2256
Successful Adoptions Since 2000
Foster
Be a Hero – Foster a Dane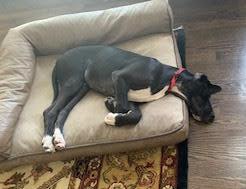 Donate

Donate and Save a Life
Get Involved

Find out about our volunteer opportunities.