Meet Tiny
RMGDRI Special Needs Foster
Tiny is a 6 month old black male Dane. He is a sweet guy who kind of got the short end of the stick health-wise.  Tiny has deformity of all four legs and is currently waiting to be seen by our vets.  It is likely that he will need surgery on at least two legs and possibly all four.  Once we find out what he is dealing with, we will have a better idea how to treat it.  We will keep everyone updated on this page, so you can follow his progress,and send good vibes his way.
9-9-2017 – Tiny was transported to his foster home today.  He had a stop at the vet for some pain meds along the way, and is now resting comfortably.
9-10-2017 – Tiny went to the vet today for a quick evaluation and an adjustment to his pain meds.  He is much more comfortable now and is even being a bit sassy to his foster mom.  We have appointments set for more extensive evaluation which will include X-rays and blood work and a better look from a specialist. Please send good vibes to Tiny and watch for further updates!
9-13-17 – Tiny went to the vet today for an evaluation and got to hang out with some friends afterwards.  We should have more information on his condition in the next day or two.
Please help us fund his care!  Even a small amount can be huge on getting him the care he needs.
9-15-17 –  This past Wednesday, this handsome guy had numerous x-rays completed in order for RMGDRI to better understand what is happening with his front legs. In brief, Tiny has an Angular Limb Deformity affecting both forelimbs. This deformity is caused by the premature closure of the ulnar growth plate.
Most dogs reach skeletal maturity at approx. 1 year old. However, for some unknown reason (genetics, nutrition, etc.) Tiny's ulna (bone in the forelimb) has begun to mature 6 months early! While the radius (other bone in the forelimb) continues to grow. This asynchronous growth among the bones in the forelimb have caused his legs to bow sharply outward.
With the guidance from veterinary specialists, RMGDRI has started discussing surgery options to correct Tiny's limb deformities.
Shout out to
Alta Dog Rehabilitation
for keeping this handsome sassy-pants out of trouble while his foster family worked.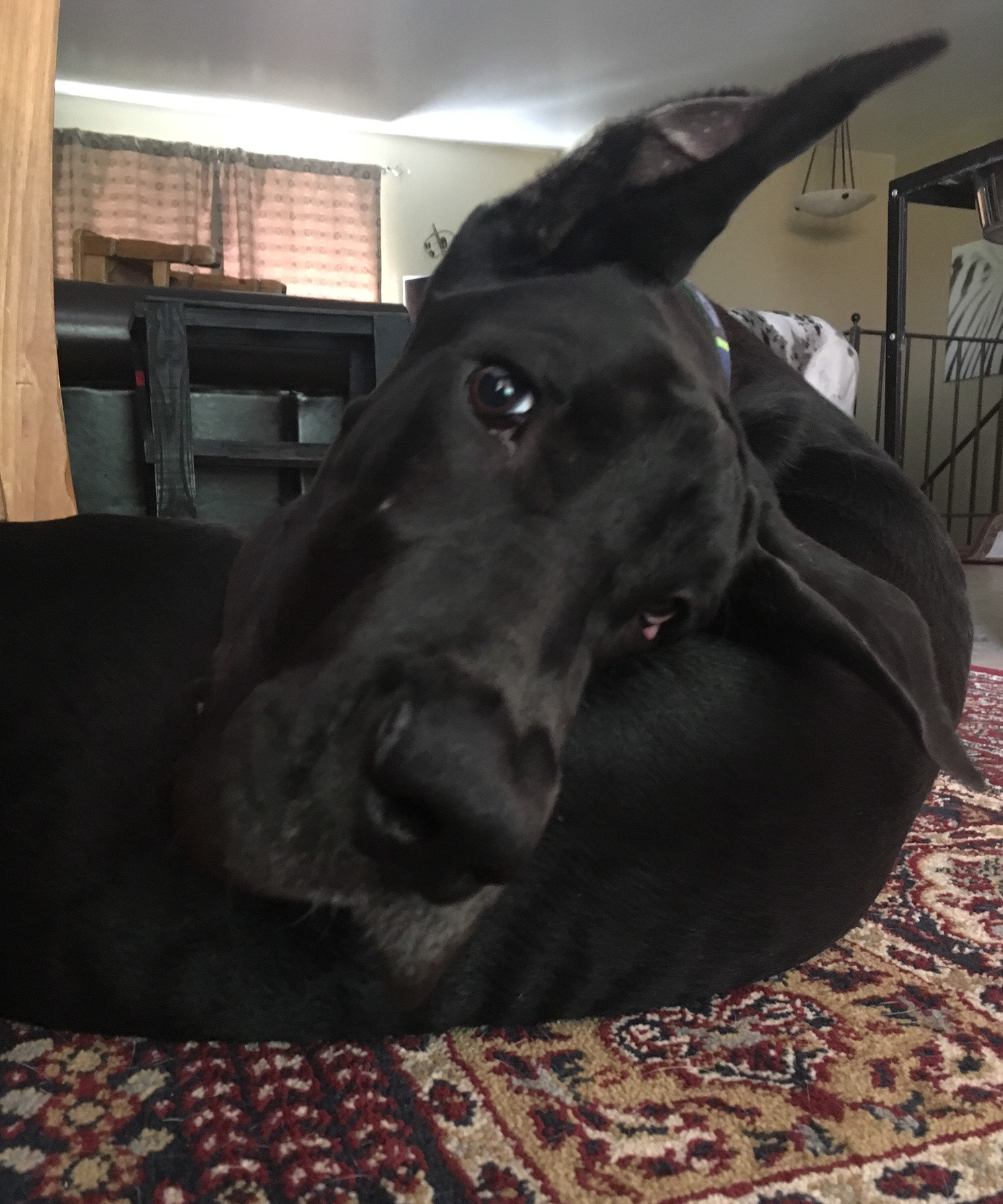 9-19-17 –  After much discussion with Tiny's veterinarians, it has been decided that the first step in correcting his legs will be to perform bilateral ulnar ostectomies. This surgery involves strategically cutting or removing a portion of the ulnar bone. The goal of this surgery will be to prevent his angular limb deformities from becoming worse as he continues to grow. And Tiny has a lot more growing to do!!
This is the first step of many to help this sweet boy live life 
to its fullest.  Tiny's first surgery will happen Tuesday September 26th.
9-26-17 – Today is surgery day for this handsome guy!  Tiny will undergo anesthesia and receive ulnar ostectomies on both front legs. This is the first step of many, to correct his angular limb deformity. Please send positive thoughts and healing vibes his way, and stay tuned later today for a post-surgery update.
9-26-17 PM – The veterinarian performing his surgery today had nothing but great things to say! Tiny did great! He handled surgery like a champ!
Tiny's front legs are really sensitive right now, and he is reluctant to bear weight on them. This reaction from Tiny was expected and to help him stay comfortable, his veterinarian will keep him overnight. Tiny's medical team will monitor his progress, making adjustments to his medications as needed and prepare him to go back to his foster home

tomorrow

evening.
9-27-17 PM – Let the rest & recovery begin!!  Tiny is back home with his foster family where he is resting comfortably. His front legs will remain bandaged for the next coupl
e of weeks, preventing Tiny from bothering his incisions while also providing support and stability to his legs. From here, while Tiny heals, he will have x-rays completed every 6 weeks to monitor the bone growth in each front forelimb.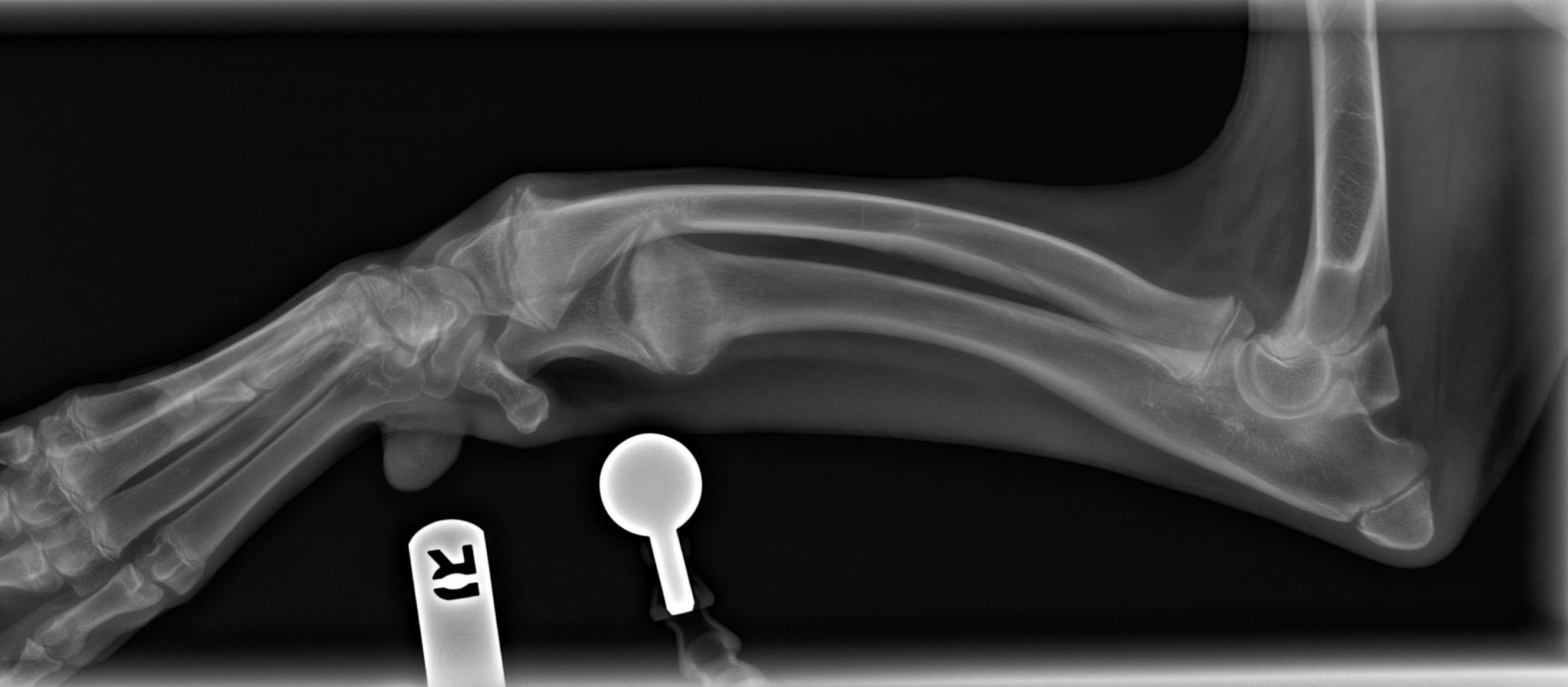 Note the curved appearance of the ulna and radius bones of Tiny's right forelimb.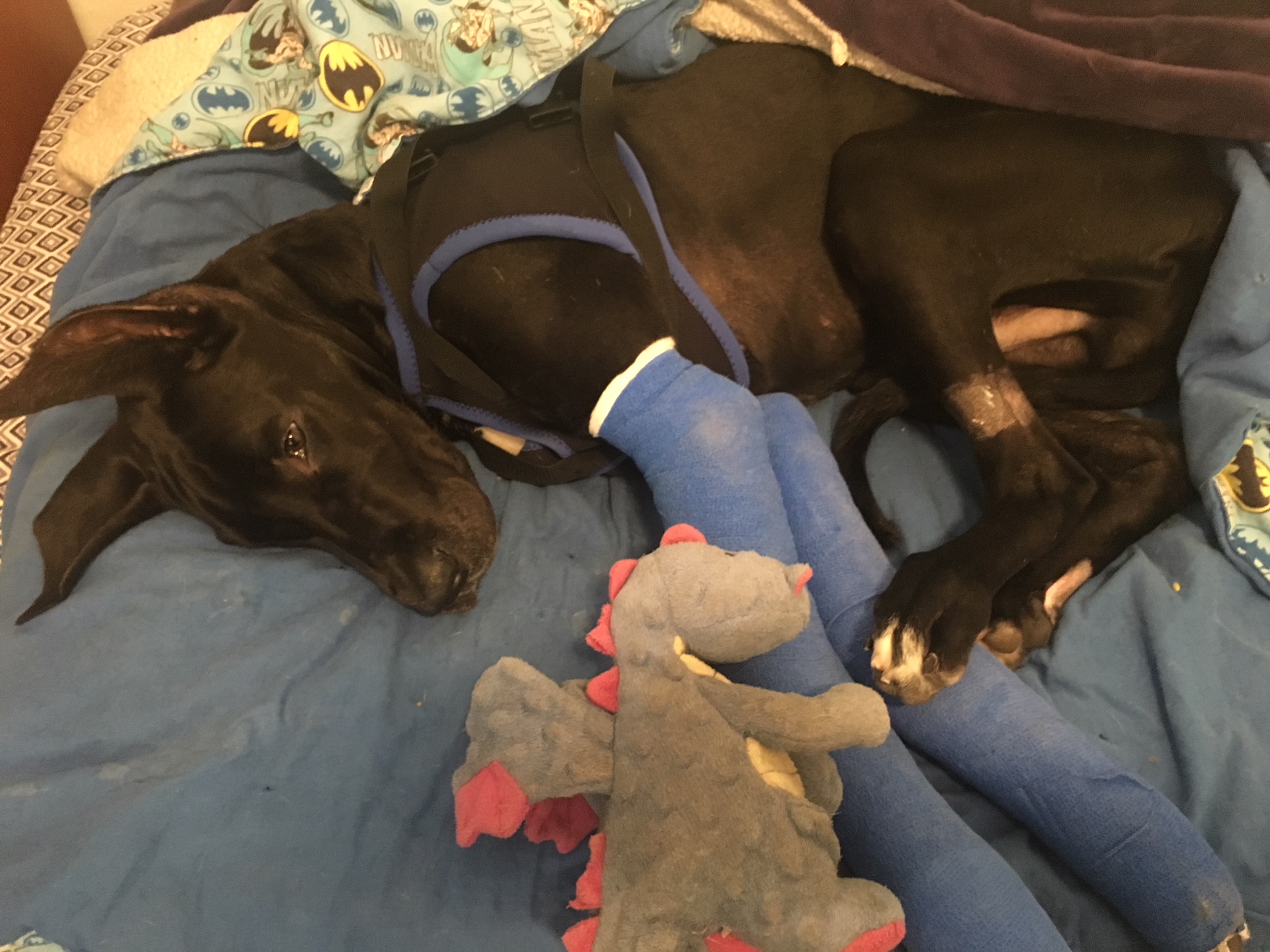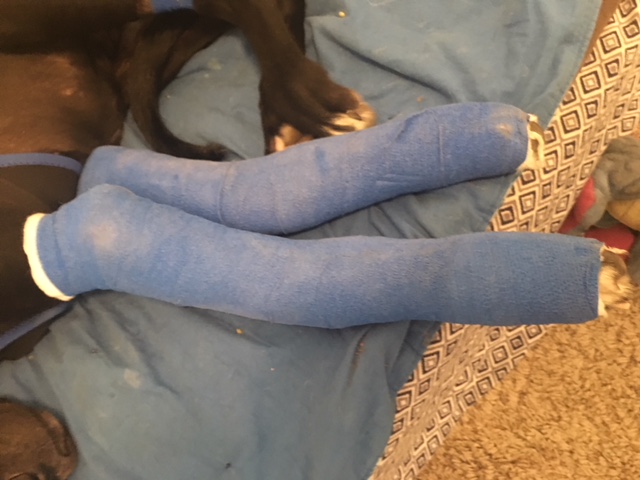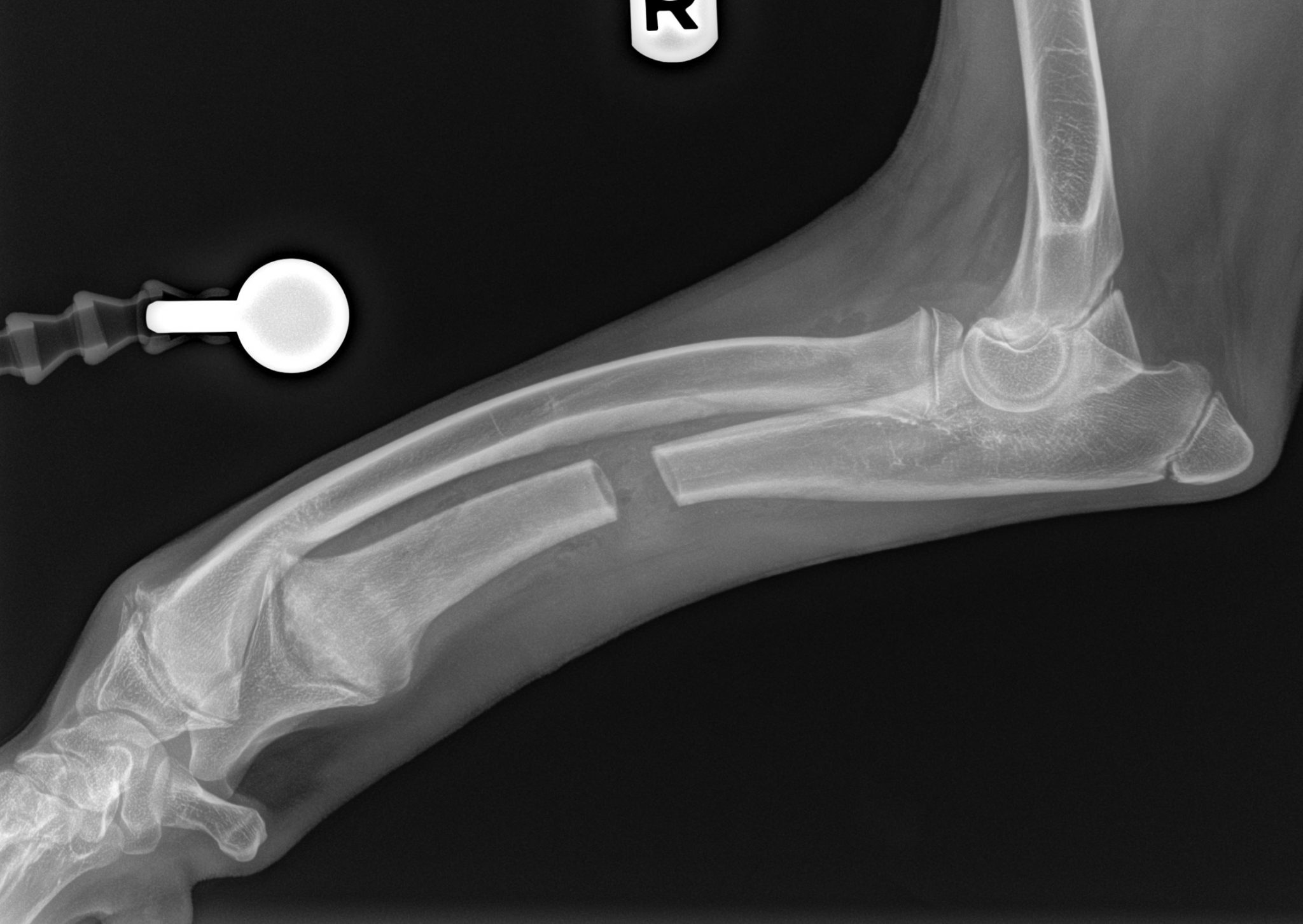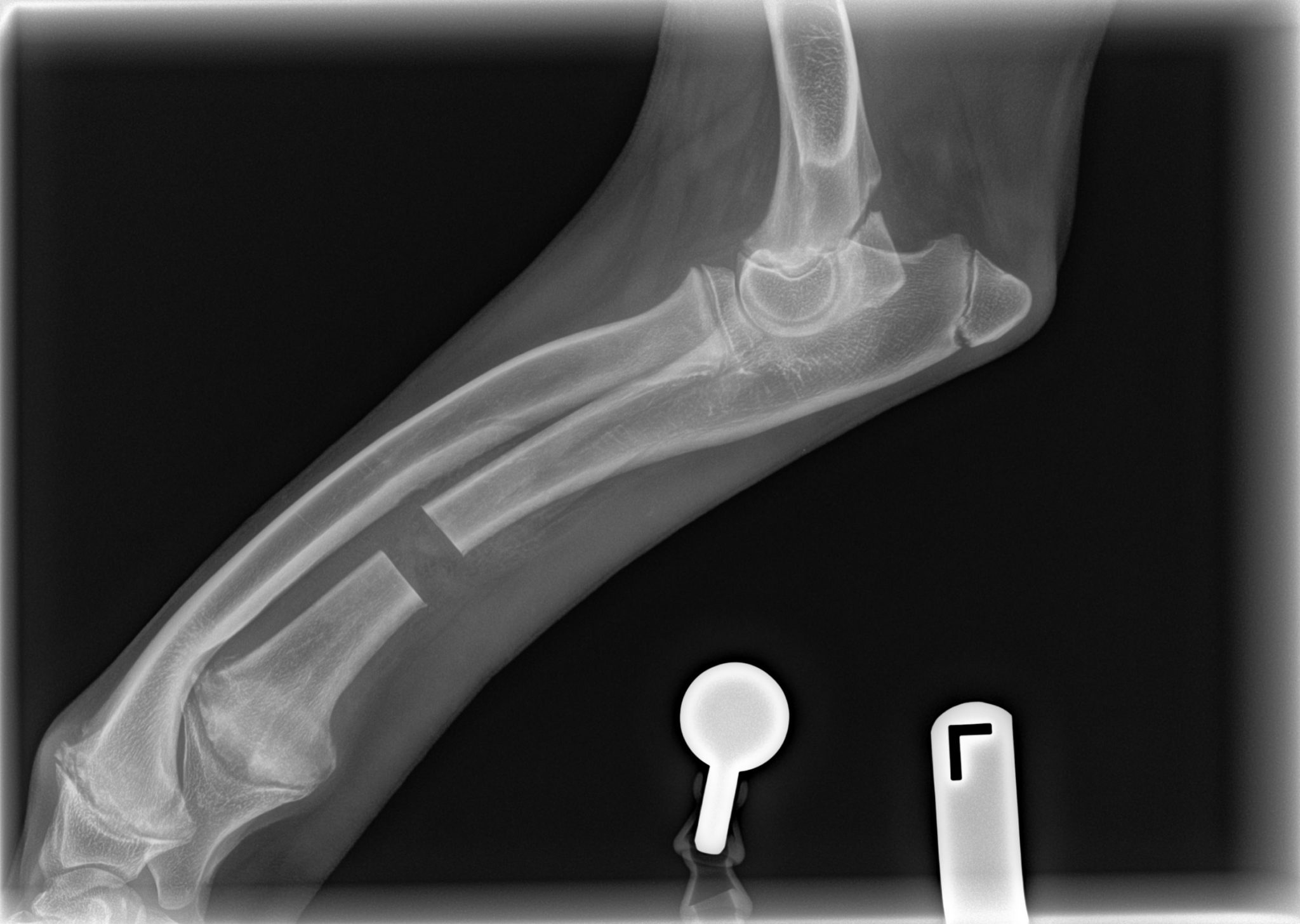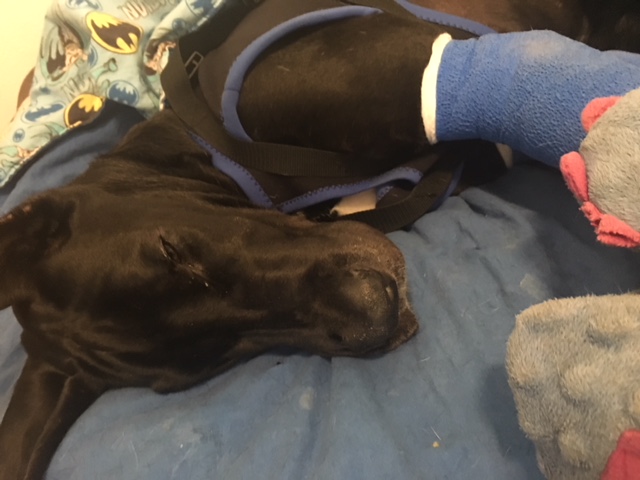 10-1-17 – Tiny is walking ok and can get around on his own, although slowly.
10-9-17 – Tiny had a followup appointment today and they said he is looking good!  The casts were removed so he is a bit unsure while walking. Tiny will be starting therapy in a few days. This will help his bones heal and straighten more as he grows.   He now weights 75 lbs.
10-11-17 – So this guy has kept us on our toes that last three days!!
Tiny had a scheduled follow-up this past

Monday

.

Monday

marked exactly 2-weeks post-op from receiving bilateral ulnar ostectomies. Everything was looking great. His incisions were healing well and he was bearing weight on both front legs. Because of this, Tiny's veterinarian decided to leave his hard bandages off. What a huge milestone!!
Unfortunately, even with the continuation of pain and anti-inflammatory medication, this guy has had a rough, painful last 24 hours. With the help of some phenomenal people, we were able to get Tiny back in to the veterinarian where he received a soft bandage to help support his legs while they continue to heal and grow!!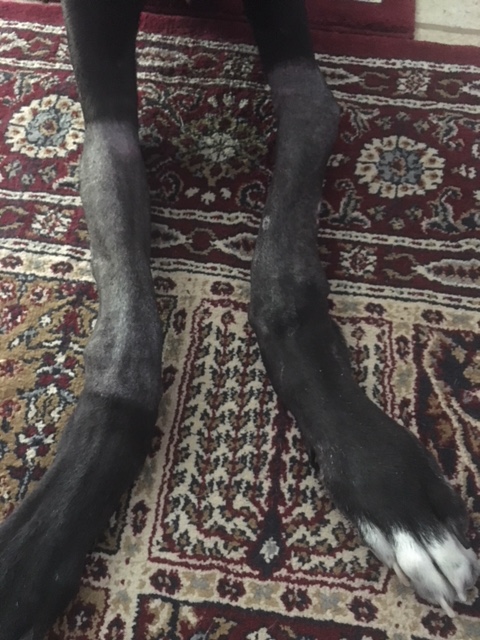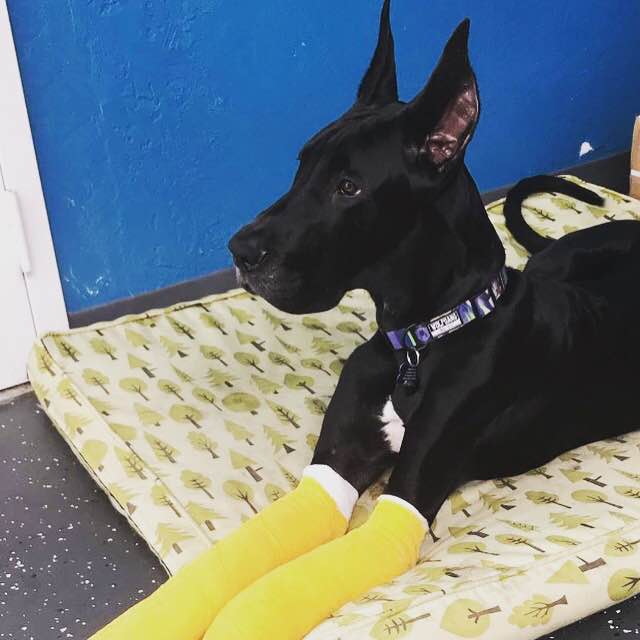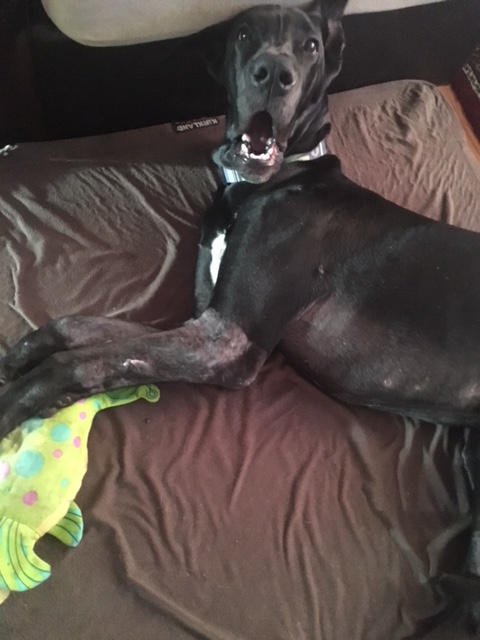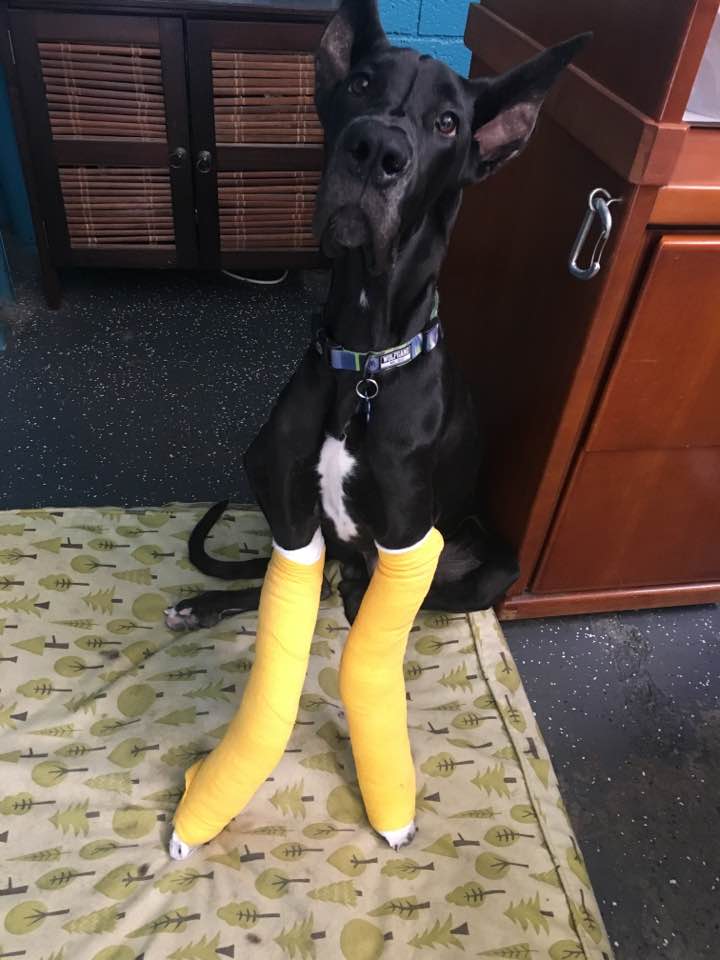 10-15-17 – Tiny had fun at the Howl' o ween Photo Shoot Fundraiser.  He was a good sport and dressed up.  The fundraiser brought in $500 to go towards Tiny's care.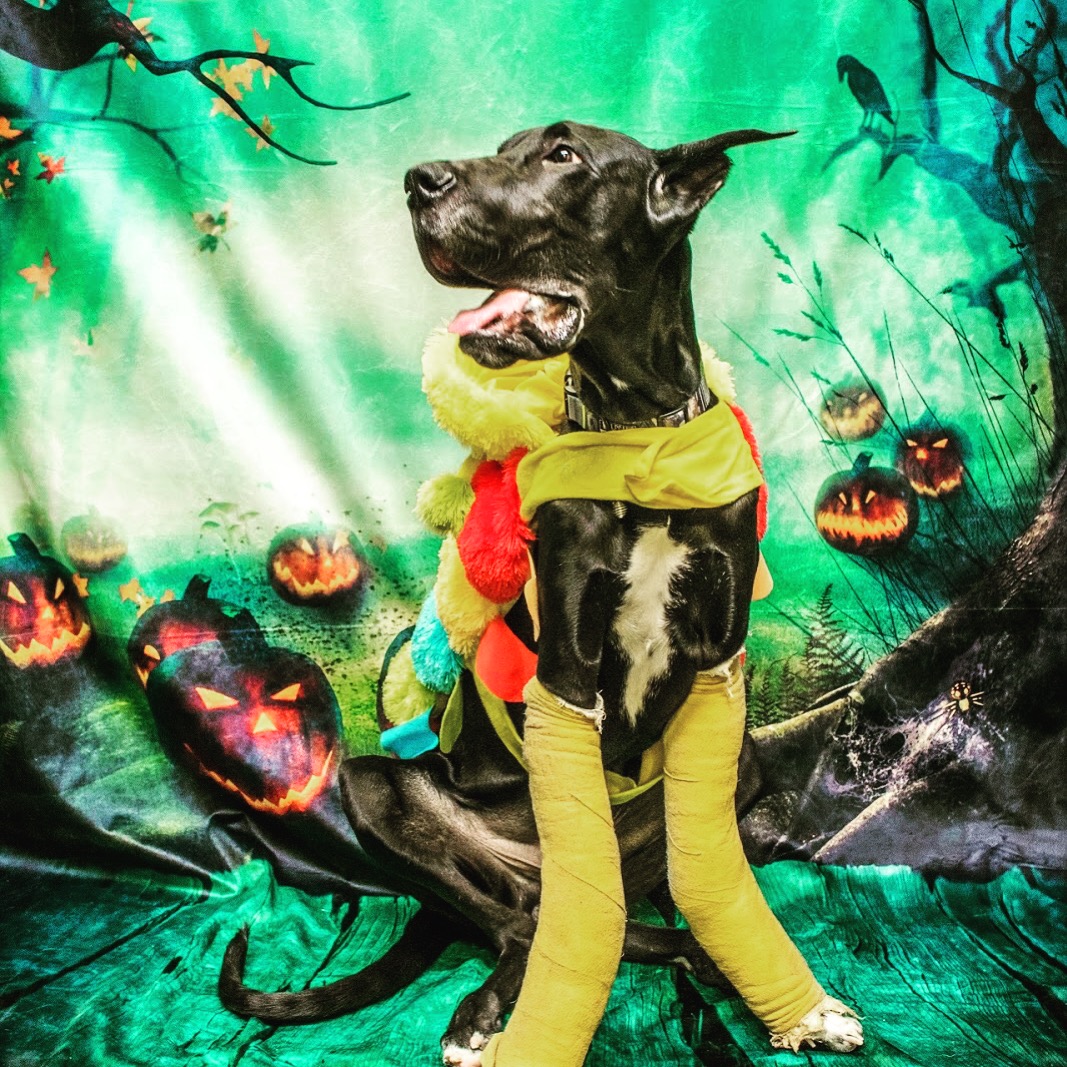 10-24-17 – This handsome guy had a follow up yesterday and his veterinary team said, "No more bandage support for this guy." With four weeks of soft bandages under his belt, 
Tiny

 now has to adapt to using his legs without that added support.
His foster mom says, "He's doing really good. He's taking things gingerly and really slow. His veterinarian didn't expect to have the soft bandages on as long but, I'm really glad he had those extra two weeks. He wasn't very confident with walking when the bandages were removed the first time.Now, he knows he can do this. Although, it may still be uncomfortable, he knows he can depend on us for support."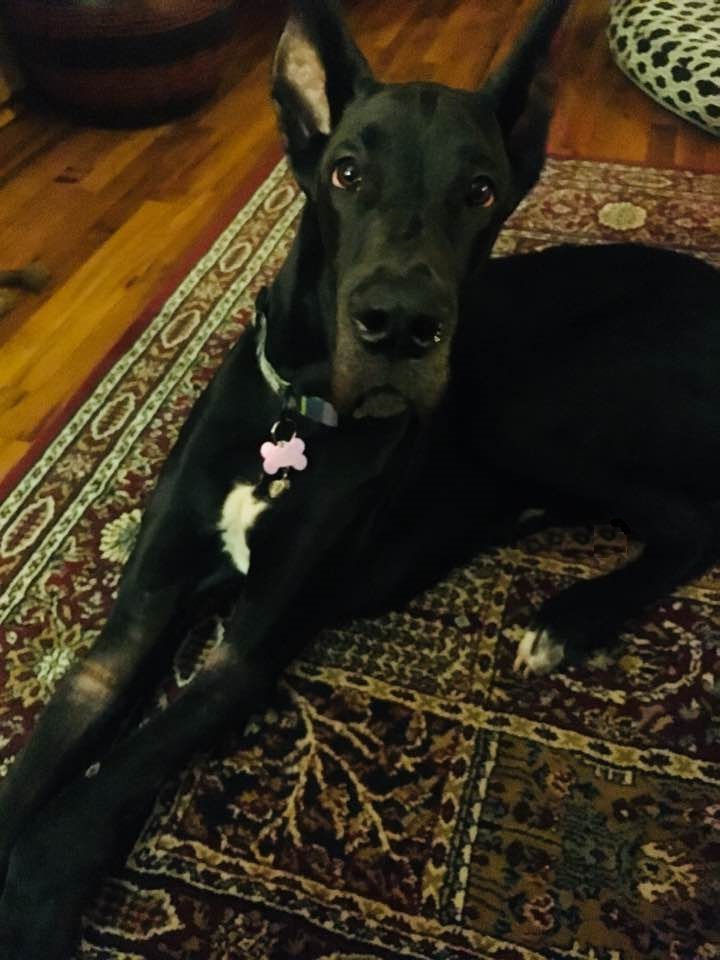 11-3-17 – Oy Vey! This poor guy is having a rough go of it!
Today, Tiny had his first set of x-rays completed since receiving bilateral ulnar ostectomies 5 weeks ago. The purpose of these x-rays is to monitor his progress, as his bones continue to grow and straighten out the angular limb deformity. However, his veterinary team were surprised to find that Tiny had fractured his left radius!!!
To give you a better idea of what has happened, we have circled the fracture site of Tiny's left radius. The arrow is pointing out the new bone growth of the ulna. For the next 6 weeks, Tiny's left leg will be in a cast as the fracture heals.
Please send positive healing energy in Tiny's direction, he certainly needs it.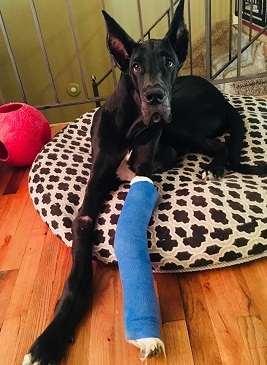 11-7-17 – Today, Tiny had his first official physical therapy appointment! Since one of his legs is still bandaged, his therapist opted to forego the water treadmill during today's session. Instead, today was spent massaging and stretching his front and back legs.
Due to his Angular Limb Deformity (ALD), Tiny has adjusted his gait to carry most of his weight with the back half of his body. This means that the muscles in the back legs are working overtime, while the muscles in the fron
t legs are hardly being used. Physically therapy will help strengthen Tiny's muscles, increase his flexibility and range of motion, reduce his pain and ultimately correct his posture.
His foster mom says, "Tiny did really good. He wasn't sure about it at first but, then he seemed to enjoy it. Once we finished his stretches, he got to go around and say hi to all the other pups."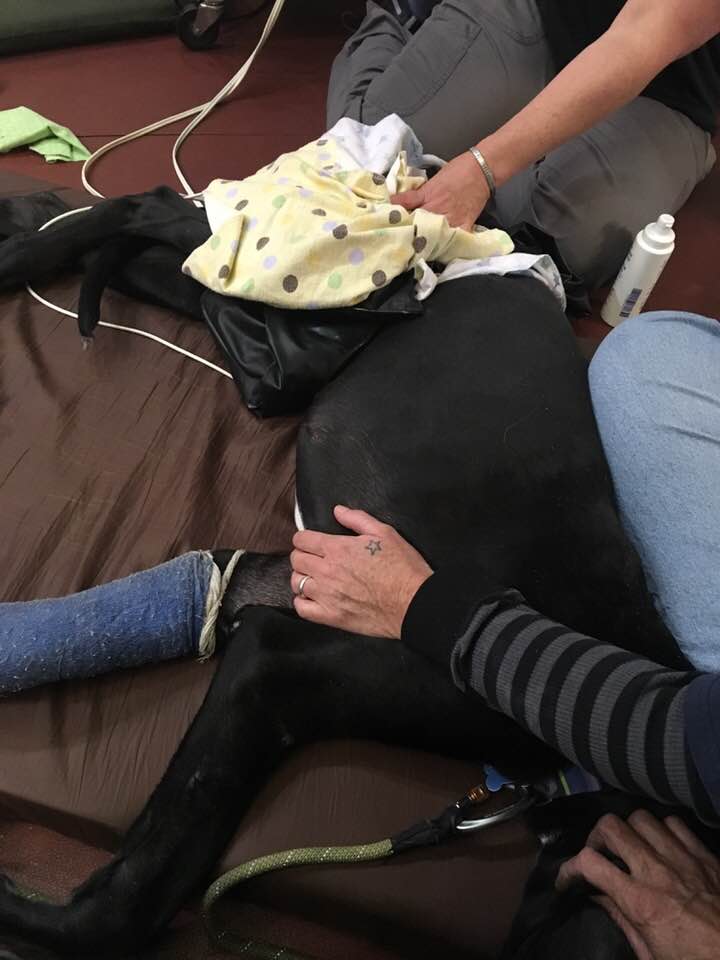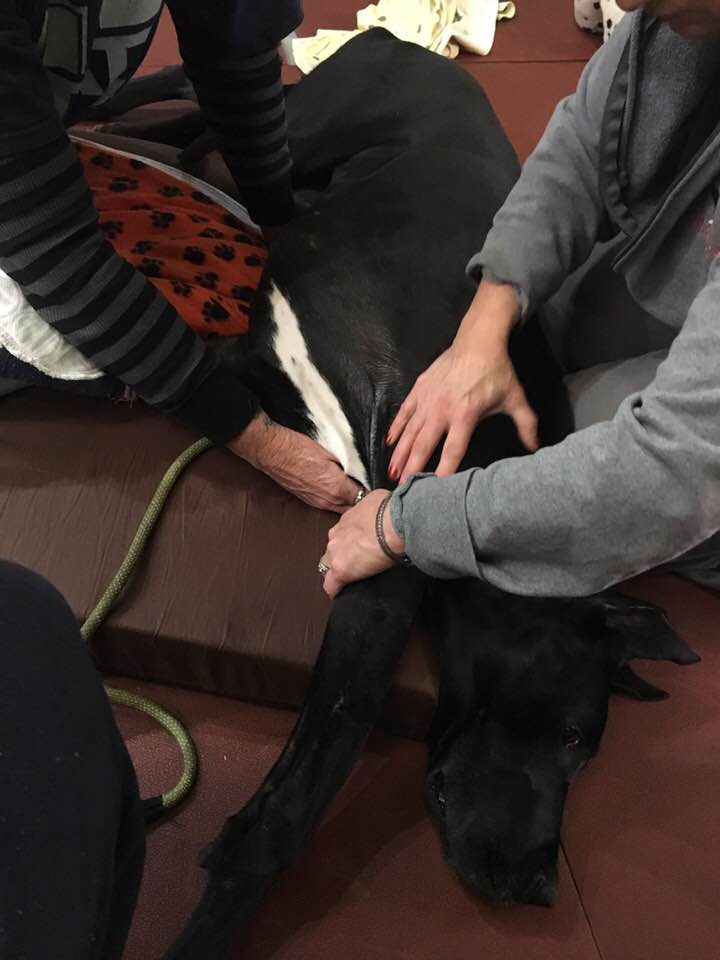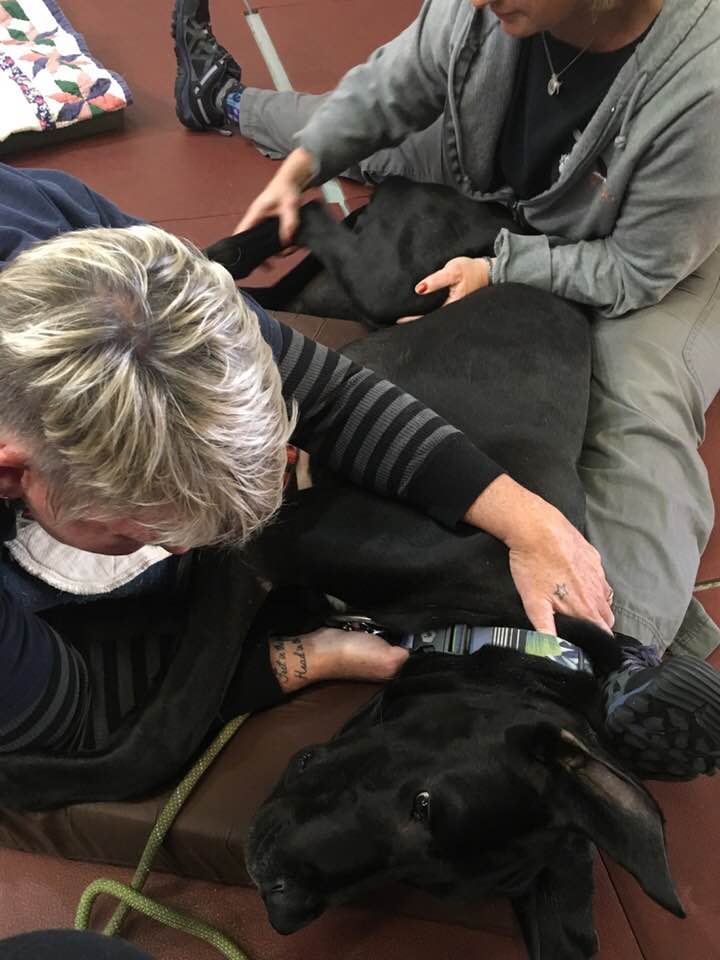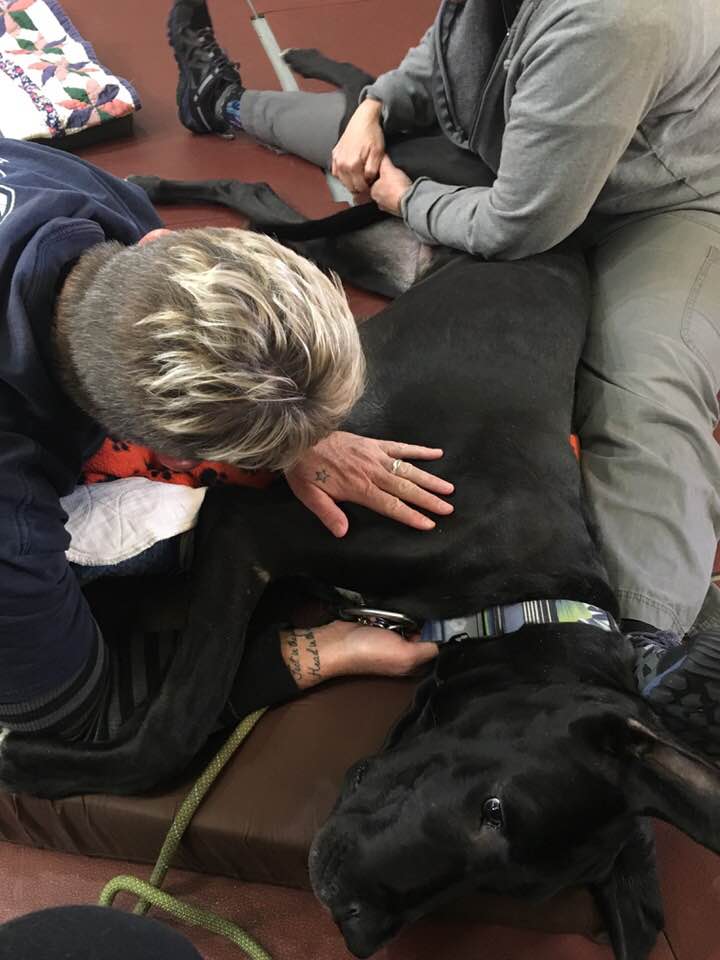 1-2-2018  This crazy kid has mastered the water treadmill!! He enjoys the physical therapy appointments and soaks up all the attention they each bring his way.
Tiny's front right leg has straightened tremendously well, that we've started discussing the second step of his treatment of closing the growth plates of that leg. The front left leg isn't doing so great and will require a second ulnar ostectomy. Our veterinary director is discussing these procedures with Tiny's veterinary team and hopes to have both scheduled mid-late January.
2-4- 2018  This crazy kid is taking swimming lessons to help with his strength.
The next step for Tiny will be a corrective osteotomy on the front left limb. The previous ulnar ostectomy and post-operative fracture Tiny experienced, prevented his left limb from correcting as well as the right. This next procedure will involve strategic cuts to the ulna and radius bones of the forelimb. The cut in the ulna will allow the veterinarian to remove a small wedge of bone and rotate the radius. This manual rotation of the radius will correct the severe bend that we see in pictures. Once the osteotomy is complete, the veterinarian will brace each section of cut bone with plates and screws. This will be scheduled in the next few weeks.  Please send him good vibes for a healthy and fast recovery.
2-20- 2018  This handsome guy is getting closer and closer to the light at the end of the tunnel! He has been quite the trooper!!
Just a recap – Tiny was surrendered to RMGDRI in October 2017 with a severe angular limb deformity affecting all four legs, mainly both of his front limbs. After collaborating with Tiny's surgical team, it was determined that Tiny would have staged procedures with the goal of correcting the severe bend in his front legs. Picture 1 shows the initial x-ray of Tiny's front left leg, notice the curve in the bones of Tiny's forelimb. Picture 2 is an x-ray of the same leg, after the first ulnar ostectomy was completed. The arrow points to the section of bone removed from the Ulna. By removing this section of bone, it relieved the tension caused by his premature growth plate closure, allowing his bones to grow and straighten. Unfortunately, despite our best efforts of relieving the tension, it wasn't enough. Tiny experienced a fracture of the radius that is circled in picture 2.
Fast forward to picture 3 – After allowing his front right leg to recover completely and get stronger with therapy, it was now time to re-address the left leg. With the help of the Orthopedic Specialist, Tiny underwent a Corrective Osteotomy with a second Ulnar Ostectomy on February 7th. Like the first ostectomy, a portion of bone was removed from Tiny's Ulna. Then a wedge a bone was removed from Tiny's radius. This allowed the Orthopedic specialist to manually rotate Tiny's bone fix it in place with a plate and screws. Tiny did experience some swelling initially after surgery but is doing well!!
A huge thank you to everyone that has helped Tiny come this far!! Without you, Tiny's surgeries and veterinary care would not be possible. Dane-sized slobbery kisses to all!!
3-15- 2018  Tiny is back to his water therapy and doing great!
6-1-2018  Tiny is back to his water therapy and doing great! But it really wears him out.
7-22-2018  Tiny came to the rescue picnic so everyone could meet him!  He was a very good boy and shared love with everyone who came by and met many new friends.
     
10-9-2018  Tiny is being neutered this week and after his recovery period, he will be ready for his forever home.
10-12-2018  Tiny is not very happy today, but hopefully this is the last surgery this poor guy will ever have to endure.
11-15-18 Tiny has an abscess in the webbing of his foot.  This afternoon, the veterinarian drained the abscess but wasn't able to do much flushing because 
Tiny

 was in pain and aggravated. They have sent him home with antibiotics. We will drop him off to the vet tomorrow morning and they will sedate 

Tiny

 and flush/clean the area.
12-30-2018  This poor guy took a fall yesterday! He seemed to be doing ok until this morning when he was reluctant to put any weight on his back left leg. Situations like this are very alarming for Tiny because of his already compromised bone structure, we constantly fear that he could break a bone without us realizing it. As a precautionary measure, we got Tiny into the veterinarian right away. The veterinarian was not immediately concerned that about a break, but did prescribe Tiny anti-inflammatory medication and lots of rest.
1-3-2019  Tiny's foster mom reports that he is still sore but he's doing ok.
1-10-2019 Tiny had a veterinary follow-up today. He is still very sore from his fall just over a week ago. His veterinarian renewed his anti-inflammatory medication and wants to continue his rest. She also has expressed concern over the amount of muscle atrophy he has endured since his neuter last October. It's important that he returns to his routine occupational therapy sessions and use of the water treadmill as soon as he is able.
1-24-2019 Even with huge amounts of rest, Tiny still seems very painful and reluctant to move. Simply everyday tasks, like going outside to potty, continue to be a tremendous struggle for him. We are concerned that something more is going on and have scheduled a veterinary appointment for 2-2-2019. We anticipate that x-rays will be taken.
1-28-2019  Tiny has endured so much since entering our organization in September of 2017 and will continue to require much more than our above-average medical Danes.  After much discussion, the Board of Directors has decided to make Tiny a Permanent Foster. This means that for the rest of his life Tiny will be medically cared for medically by Rocky Mountain Great Dane Rescue, Inc. and will continue to have a dedicated foster family committed to his everyday care.
6-21-2019 Tiny went to the ER because he was not feeling well and was reluctant to eat. The vet thought that he tweeted his back and may possibly have a bladder infection. They have started him on pain medication and antibiotics. He did go out tonight and went pee, he's still not super interested in food but did have a few treats.  He's still running a slight fever but did drink a little.
7-16-2019  Tiny has become more fussy and has been crying a lot even though he remains on strong pain medications. As we had feared, his bones are not handling the stress of his fully grown body and his quality of life has gone substantially down hill since his last vet visit.  We have decided it is time to say goodbye to this amazing Great Dane so he can be at peace.
7-19-2019  It is with heavy heart that we let you know Tiny crossed the Rainbow Bridge this morning. He went peacefully at home with his foster family.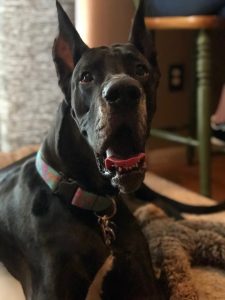 Thank you all for your support in helping us care for all of Tiny's needs.