Meet Tiny
RMGDRI Special Needs Foster
Tiny is a 6 month old black male Dane. He is a sweet guy who kind of got the short end of the stick health-wise.  Tiny has deformity of all four legs and is currently waiting to be seen by our vets.  It is likely that he will need surgery on at least two legs and possibly all four.  Once we find out what he is dealing with, we will have a better idea how to treat it.  We will keep everyone updated on this page, so you can follow his progress,and send good vibes his way.
9-9-2017 – Tiny was transported to his foster home today.  He had a stop at the vet for some pain meds along the way, and is now resting comfortably.
9-10-2017 – Tiny went to the vet today for a quick evaluation and an adjustment to his pain meds.  He is much more comfortable now and is even being a bit sassy to his foster mom.  We have appointments set for more extensive evaluation which will include X-rays and blood work and a better look from a specialist. Please send good vibes to Tiny and watch for further updates!
9/13/17 – Tiny went to the vet today for an evaluation and got to hang out with some friends afterwards.  We should have more information on his condition in the next day or two.
Please help us fund his care!  Even a small amount can be huge on getting him the care he needs.
9/15/17 –  This past Wednesday, this handsome guy had numerous x-rays completed in order for RMGDRI to better understand what is happening with his front legs. In brief, Tiny has an Angular Limb Deformity affecting both forelimbs. This deformity is caused by the premature closure of the ulnar growth plate.
Most dogs reach skeletal maturity at approx. 1 year old. However, for some unknown reason (genetics, nutrition, etc.) Tiny's ulna (bone in the forelimb) has begun to mature 6 months early! While the radius (other bone in the forelimb) continues to grow. This asynchronous growth among the bones in the forelimb have caused his legs to bow sharply outward.
With the guidance from veterinary specialists, RMGDRI has started discussing surgery options to correct Tiny's limb deformities.
Shout out to
Alta Dog Rehabilitation
for keeping this handsome sassy-pants out of trouble while his foster family worked.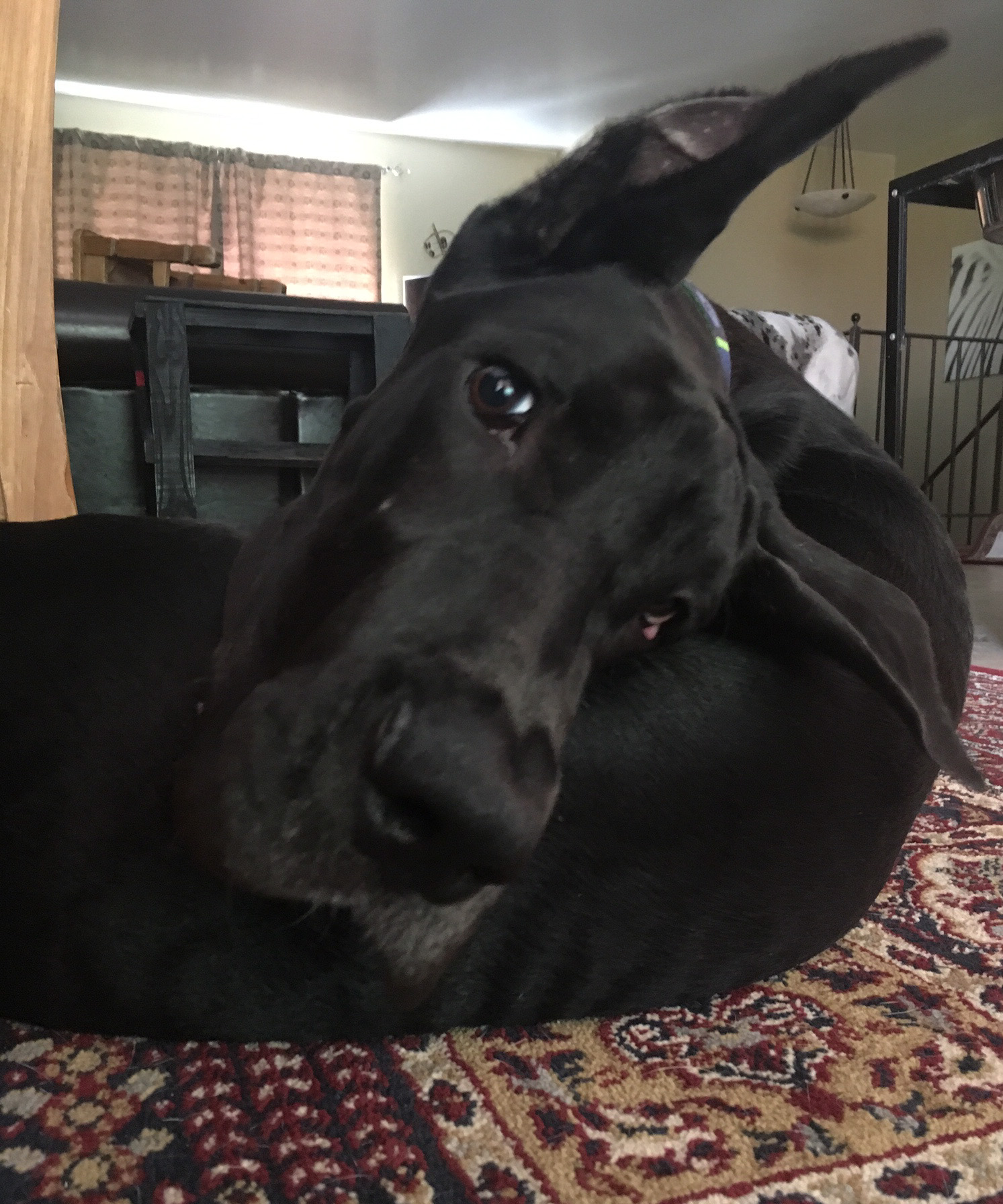 9/19/17 –  After much discussion with Tiny's veterinarians, it has been decided that the first step in correcting his legs will be to perform bilateral ulnar ostectomies. This surgery involves strategically cutting or removing a portion of the ulnar bone. The goal of this surgery will be to prevent his angular limb deformities from becoming worse as he continues to grow. And Tiny has a lot more growing to do!!
This is the first step of many to help this sweet boy live life 
to its fullest.  Tiny's first surgery will happen Tuesday September 26th.
9/26/17 – Today is surgery day for this handsome guy!
Tiny will undergo anesthesia and receive ulnar ostectomies on both front legs. This is the first step of many, to correct his angular limb deformity. Please send positive thoughts and healing vibes his way, and stay tuned later today for a post-surgery update.
9/26/17 PM – The veterinarian performing his surgery today had nothing but great things to say! Tiny did great! He handled surgery like a champ!
Tiny's front legs are really sensitive right now, and he is reluctant to bear weight on them. This reaction from Tiny was expected and to help him stay comfortable, his veterinarian will keep him overnight. Tiny's medical team will monitor his progress, making adjustments to his medications as needed and prepare him to go back to his foster home

tomorrow

evening.
9/27/17 PM – Let the rest & recovery begin!!
Tiny is back home with his foster family where he is resting comfortably. His front legs will remain bandaged for the next coupl
e of weeks, preventing Tiny from bothering his incisions while also providing support and stability to his legs. From here, while Tiny heals, he will have x-rays completed every 6 weeks to monitor the bone growth in each front forelimb.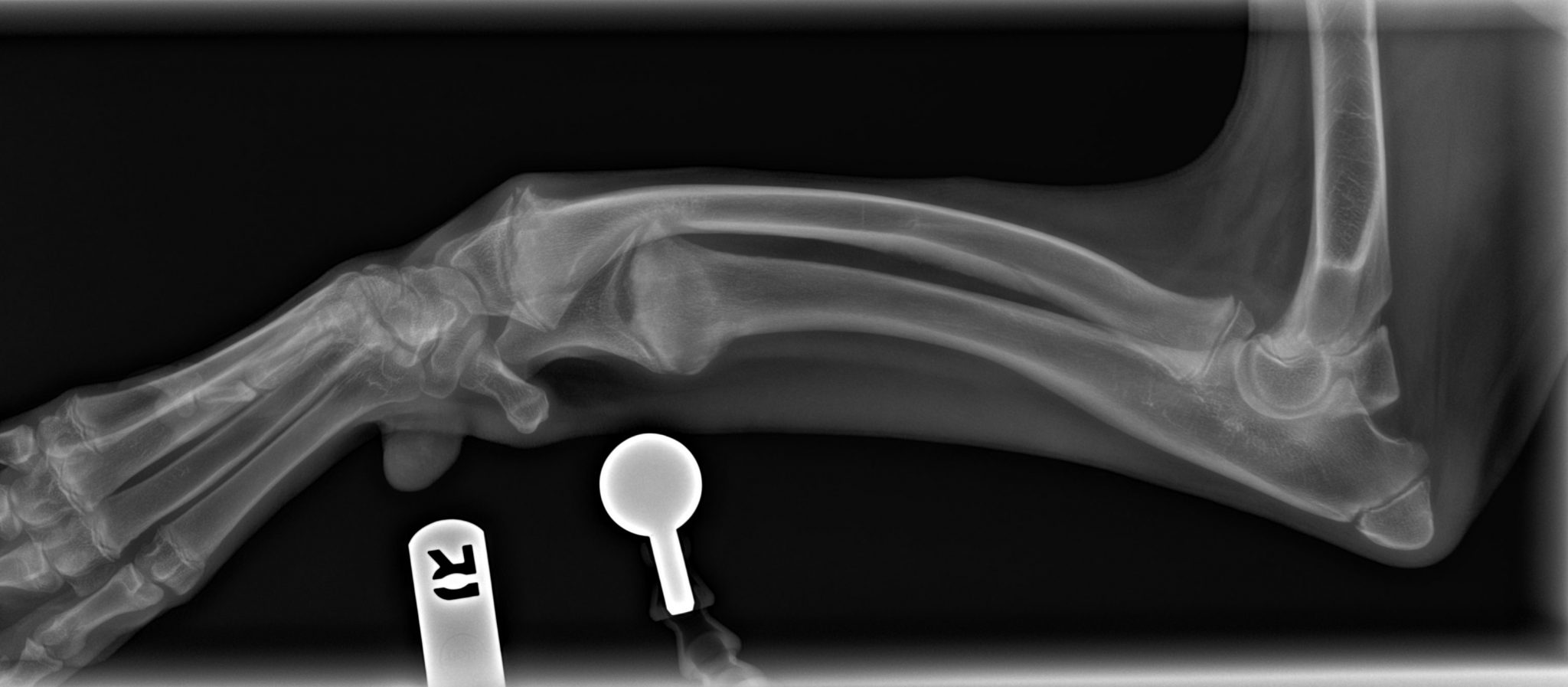 Note the curved appearance of the ulna and radius bones of Tiny's right forelimb.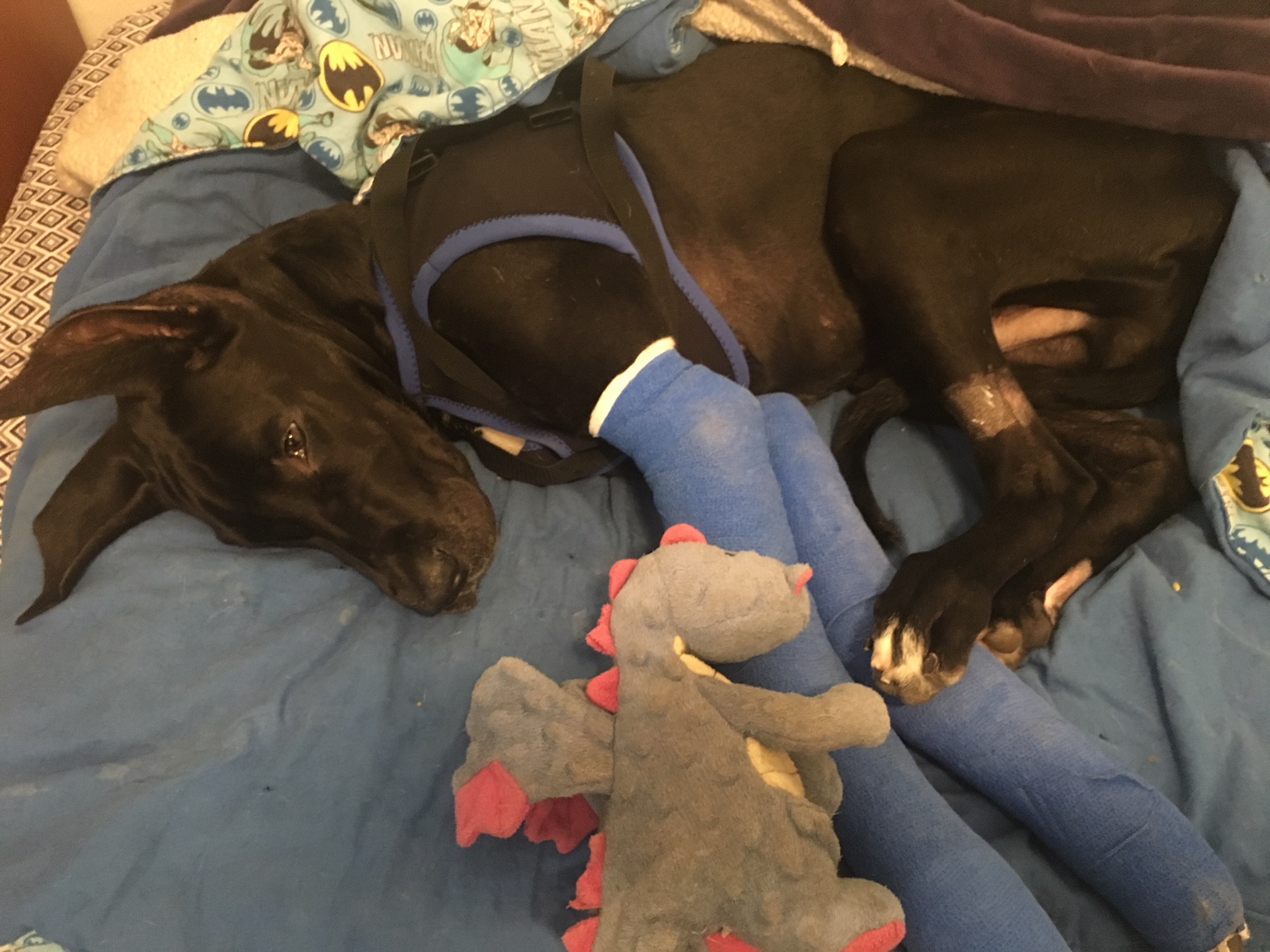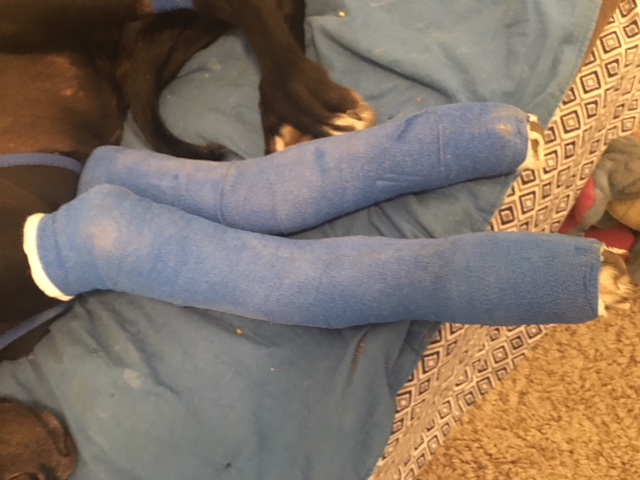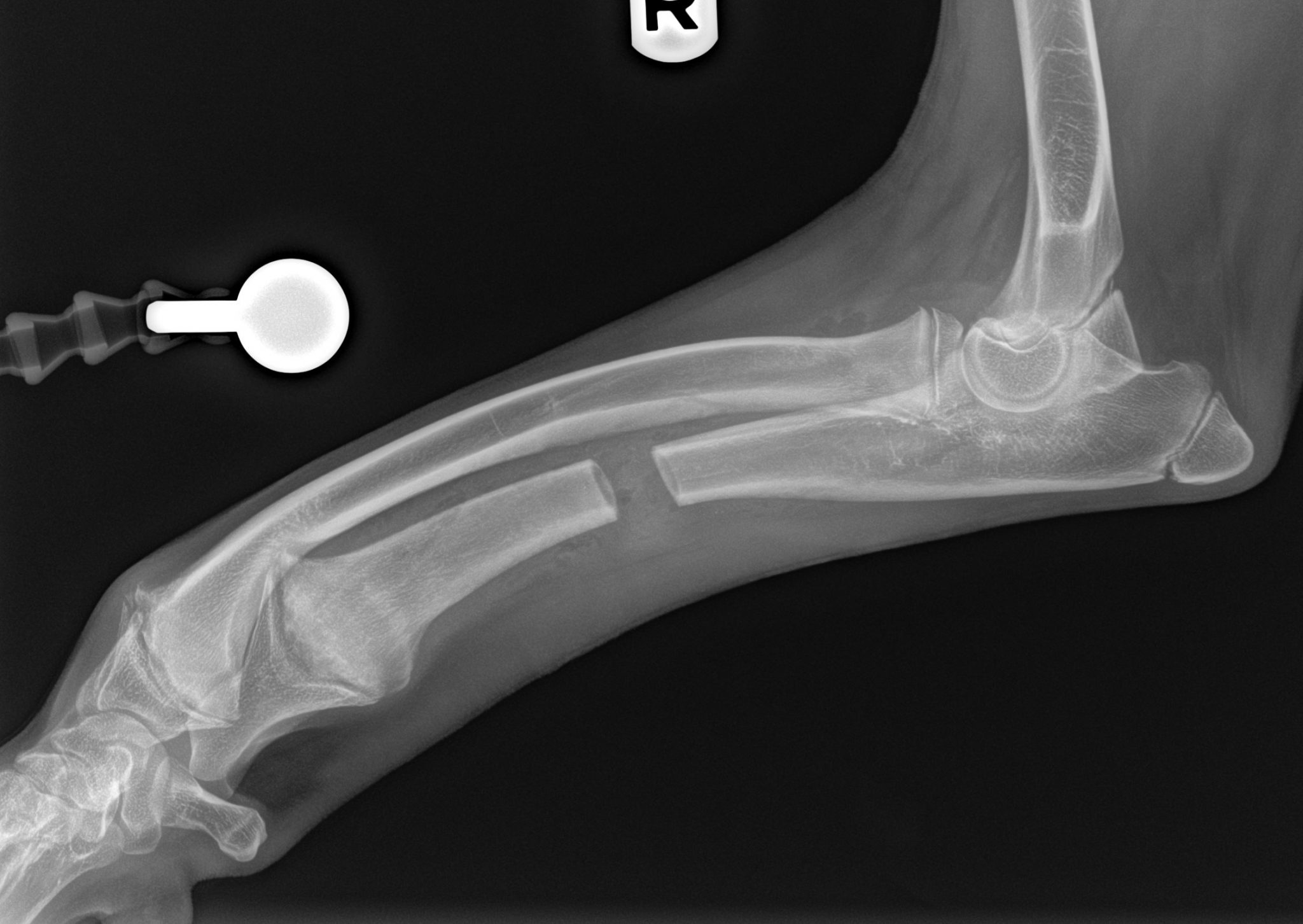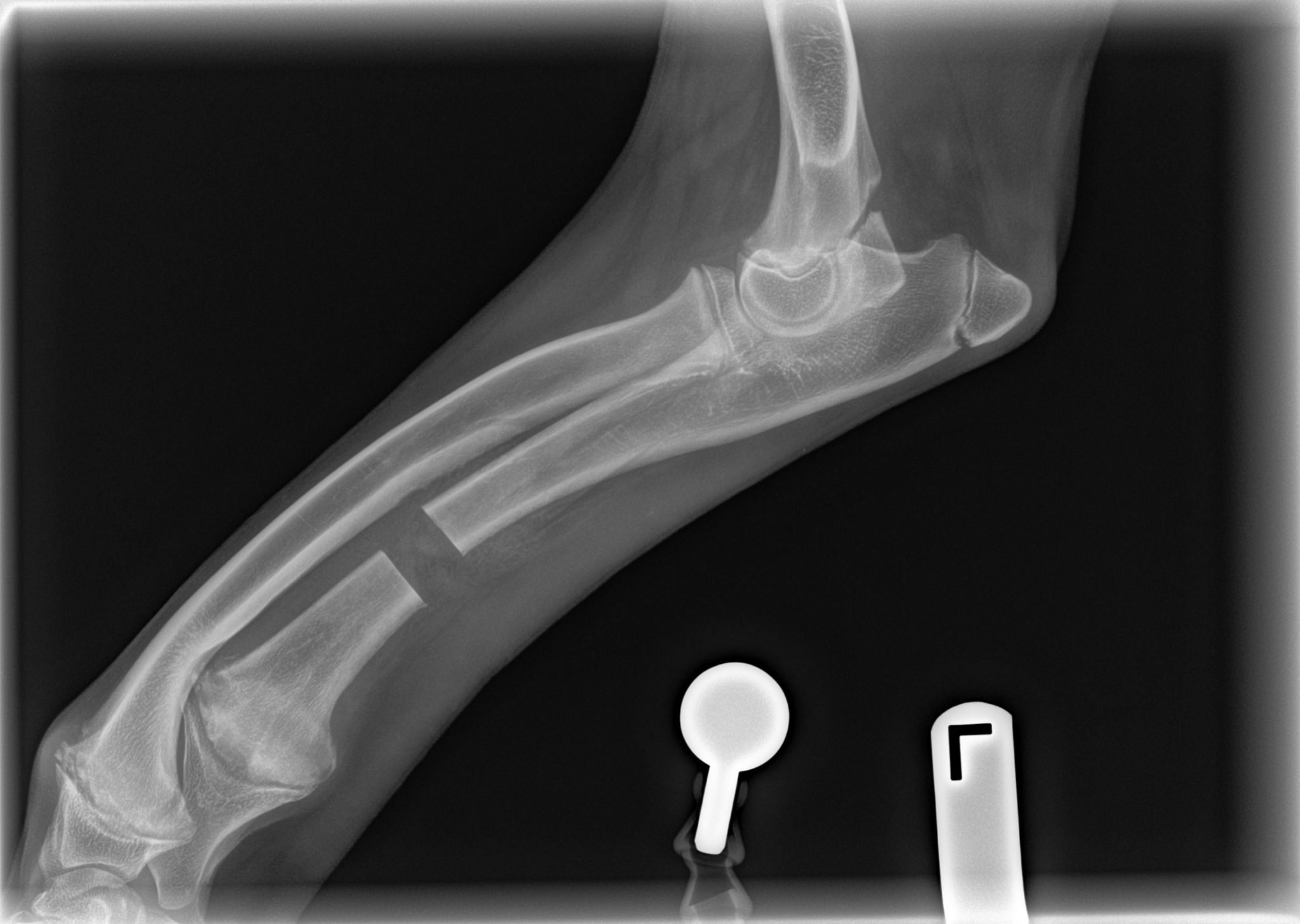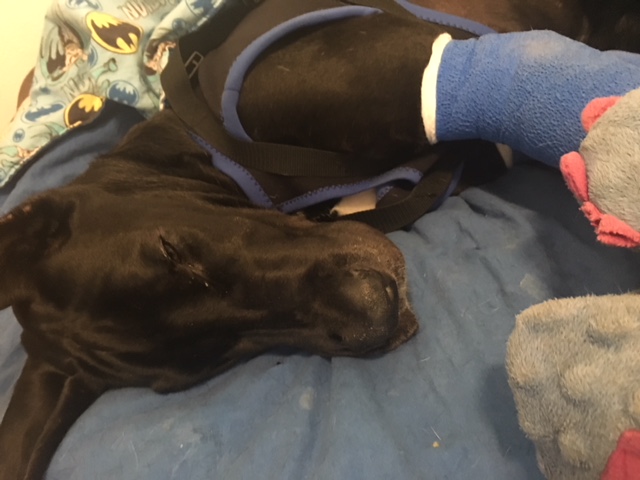 10-1-17 – Tiny is walking ok and can get around on his own, although slowly.
10-9-17 – Tiny had a followup appointment today and they said he is looking good!  The casts were removed so he is a bit unsure while walking. Tiny will be starting therapy in a few days. This will help his bones heal and straighten more as he grows.   He now weights 75 lbs.
10-11-17 – So this guy has kept us on our toes that last three days!!
Tiny had a scheduled follow-up this past

Monday

.

Monday

marked exactly 2-weeks post-op from receiving bilateral ulnar ostectomies. Everything was looking great. His incisions were healing well and he was bearing weight on both front legs. Because of this, Tiny's veterinarian decided to leave his hard bandages off. What a huge milestone!!
Unfortunately, even with the continuation of pain and anti-inflammatory medication, this guy has had a rough, painful last 24 hours. With the help of some phenomenal people, we were able to get Tiny back in to the veterinarian where he received a soft bandage to help support his legs while they continue to heal and grow!!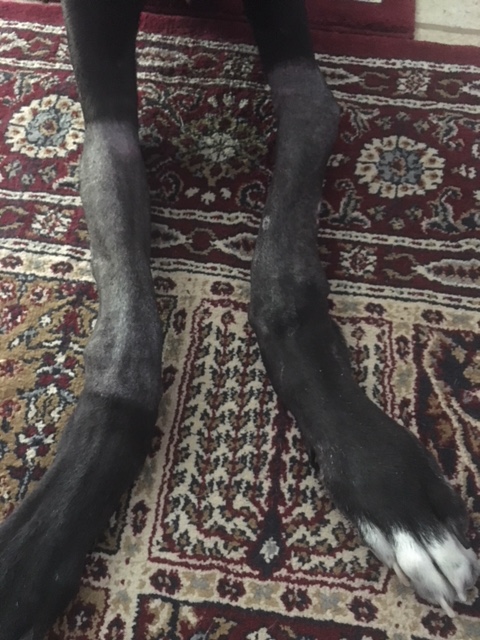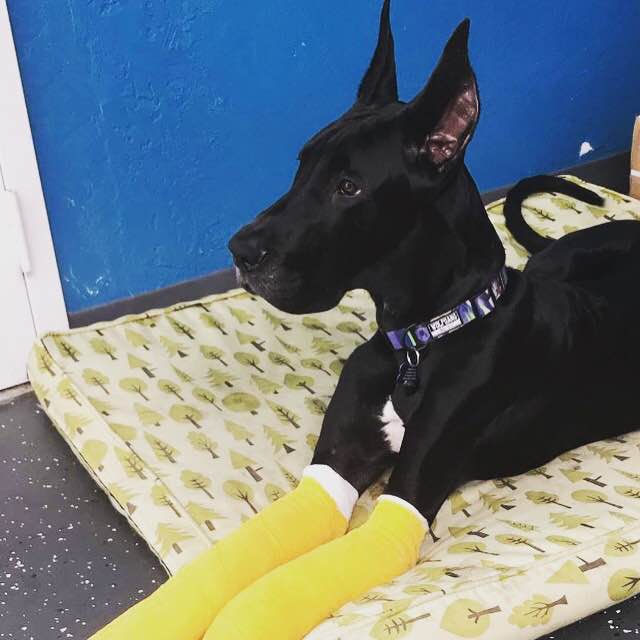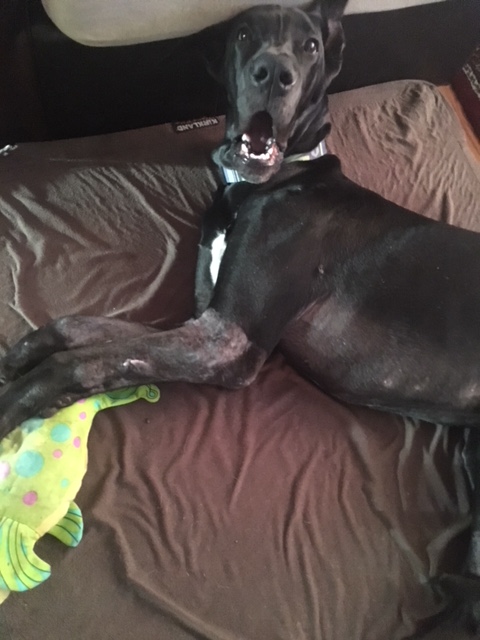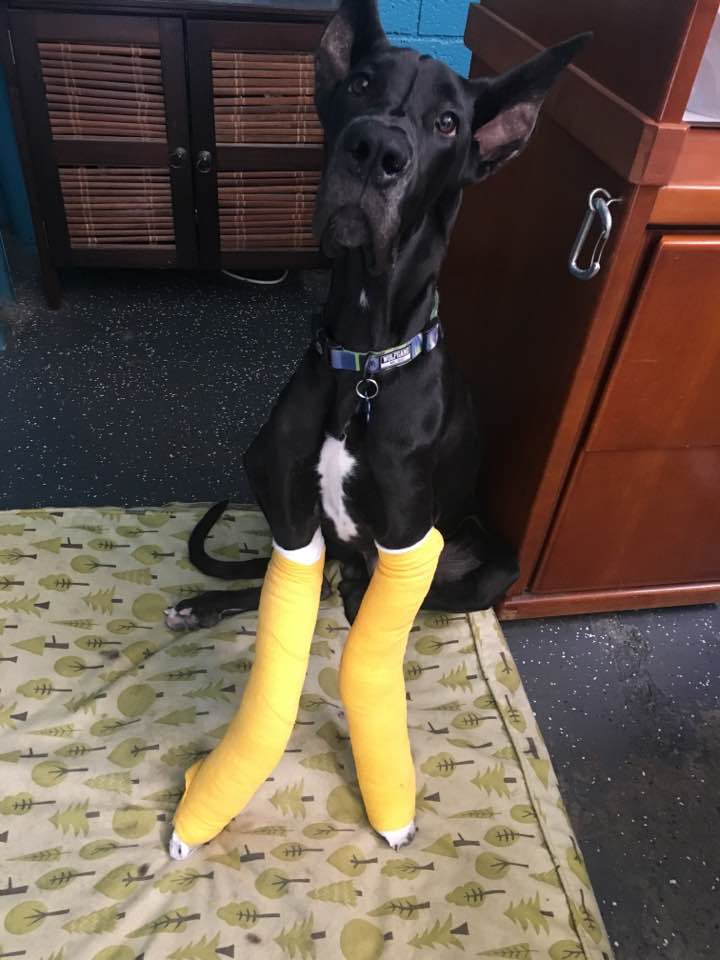 Thank you all for your support and continue to send positive, healing thoughts Tiny's way.
To donate towards Tiny's veterinary care, please click the button below.