Meet Simon
RMGDRI Special Needs Foster
HELP!
As you may recall, Simon is one of our long-term medical Danes that came to us in January 2018 in need of a CCL repair. And this poor guy has had complication after complication since!
We have a great team of veterinarians at CSU Veterinary Teaching Hospital that is currently caring for Simon to help us better understand what exactly is going on. What we do know is that Simon continues to battle an infection that has created multiple abscesses within the muscle of his
 back left leg. Aspirations from these abscesses confirmed infection and he is in need of immediate surgery to clean and debride the areas of infected tissue.
We have an estimate of $6500 and this estimate doesn't include the care Simon's been given over the last 24 hours. If you're in a position to make a donation of any size, we (& Simon) would greatly appreciate it! The poor guy has gotten the short end of the stick time and time again. Fortunately, with your help, this is something we can fix!
To make a donation towards Simon's Veterinary Care, please click on the Donate button below.
Fri, Aug 16
Originally, Simon was scheduled for surgery first thing this morning however, due to the nature of his surgery (mass-infection) it was pushed until the afternoon.
Simon did great! His abscesses were cleaned and debrided through three incisions and drains were installed to help with any infection left behind. His foster mom was able to visit with him in recovery and says, "He's still groggy but doing well."
A huge thank you goes out to all that have made donations towards Simon's veterinary care. Slobbery Dane kisses to you! Please keep those donations coming! You are the reason we are able to care for big guys like Simon.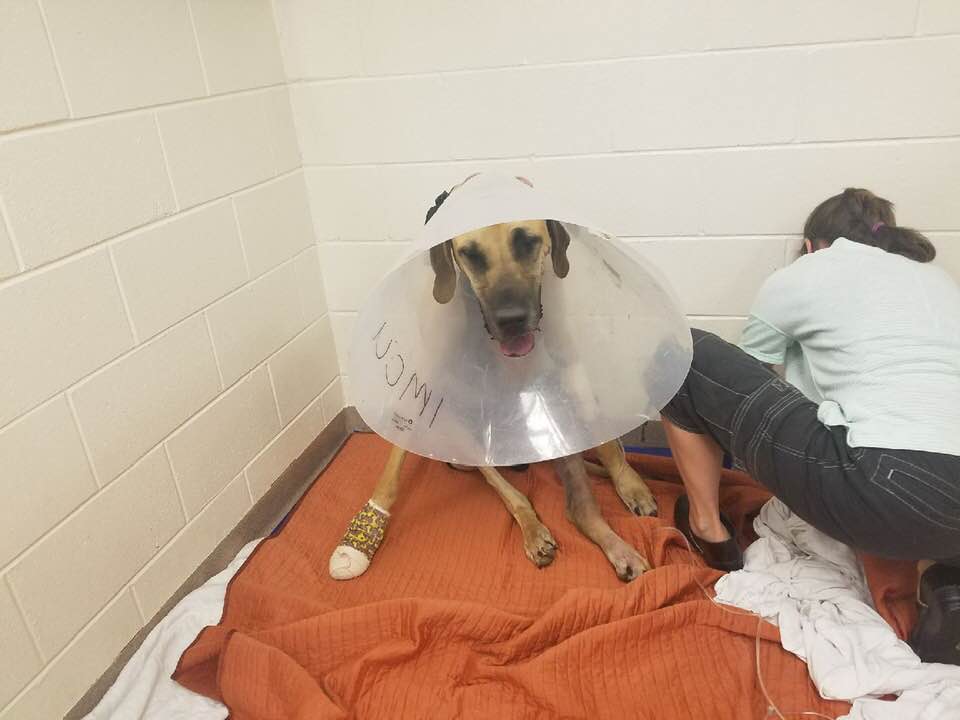 Sat, Aug 17
Simon is on the mend! His veterinary team got him up and standing this morning. He is not weight bearing on his hind leg yet but he is putting weight on his front right leg. He wants to get up and go but he's still hooked up to a ketamine drip. Hopefully, at some point today that will be taken out and he'll be transitioned to oral medication. If he continues to do well throughout the day, Simon could be released as early as tomorrow morning! Thank you for keepi
ng this handsome fellow in your thoughts!!
Here he is this afternoon getting some rehabilitation. It's too soon for Acupuncture but he's tolerating the cone so far. He'll most likely wear the cone for as long as the drains are in. lf he continues to recover positively, the drains are scheduled to be removed Tuesday or Wednesday.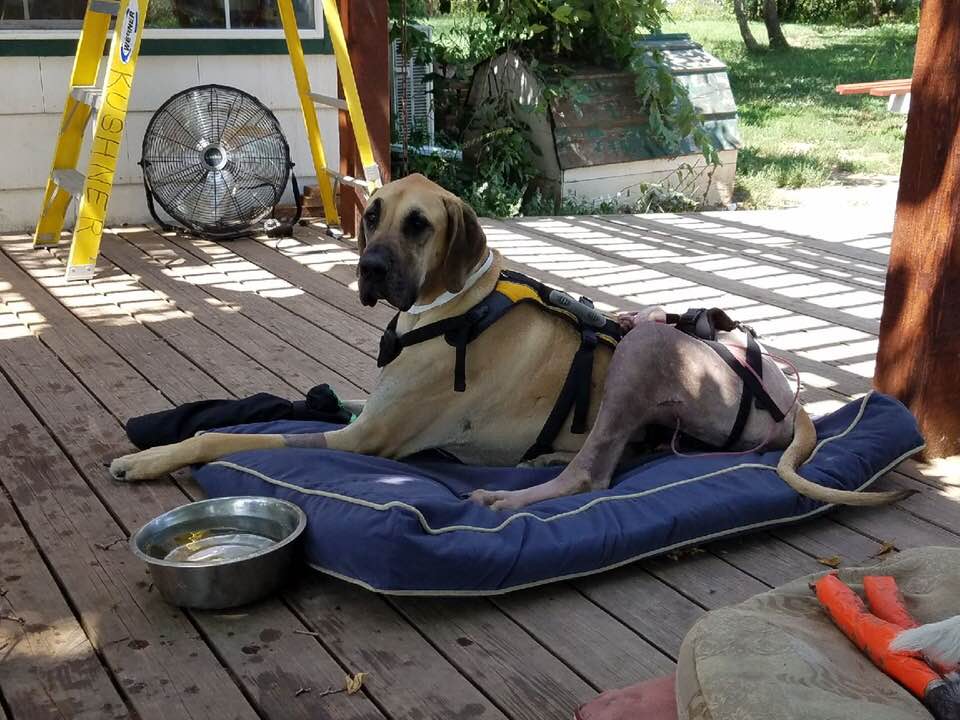 Sun, Aug 18
Simon is home! His foster mom says, "He's definitely happy to be home and enjoying being one of the gang again. He can't really do much but we're managing. He's got a bandage change scheduled for tomorrow afternoon and fingers-crossed the drains get to come out Tuesday."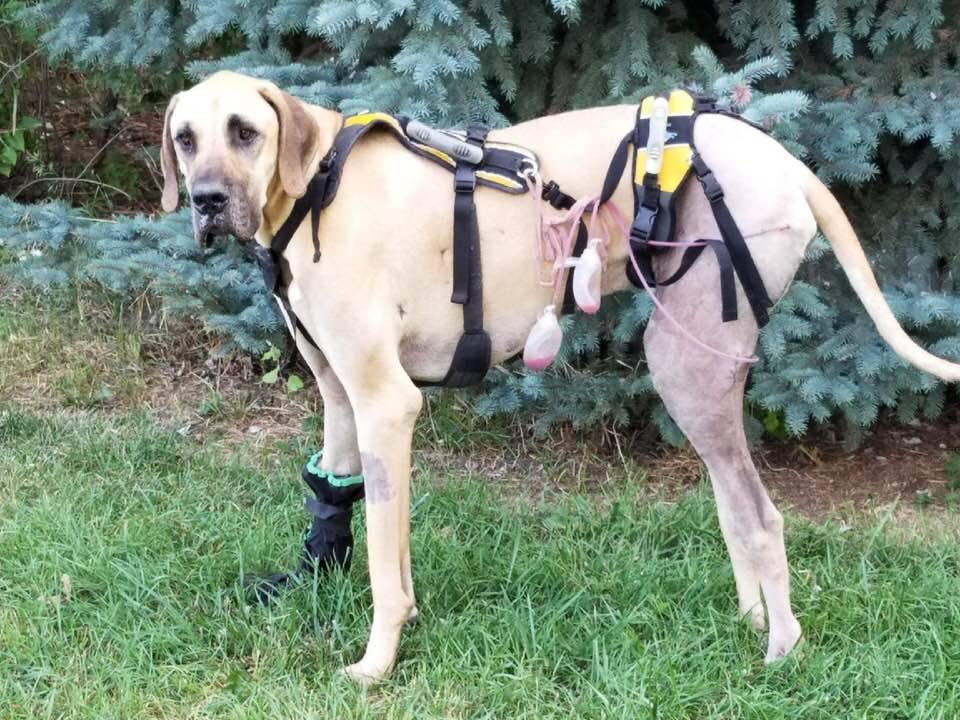 Tue, Aug 20
This guy was very busy yesterday! His day was filled with ultrasound, TENS unit, laser, range of motion, and people that stopped in to see how he was doing along the way!!
He is feeling sooo much better and will stand on his own and toe touch on his left hind leg. He does require assistance to move locations but with his foster mom at his side and the Help-Me-Up harness Simon is wearing, Simon is able to move around.
Giant hugs & slobbery Dane kisses to those that have donated and continue to donate towards Simon's care. You all are fabulous! And we are so grateful and fortunate to have you all as our fans. 

🙂
Friday, Aug 23
Simon continues to make a remarkable recovery!! Here he is recieving an Acupuncture treatment and physical therapy.
His foster mom says, "He lays on his left side now without a thought. It's still difficult to get his back end up but he's getting stronger on his left hind leg."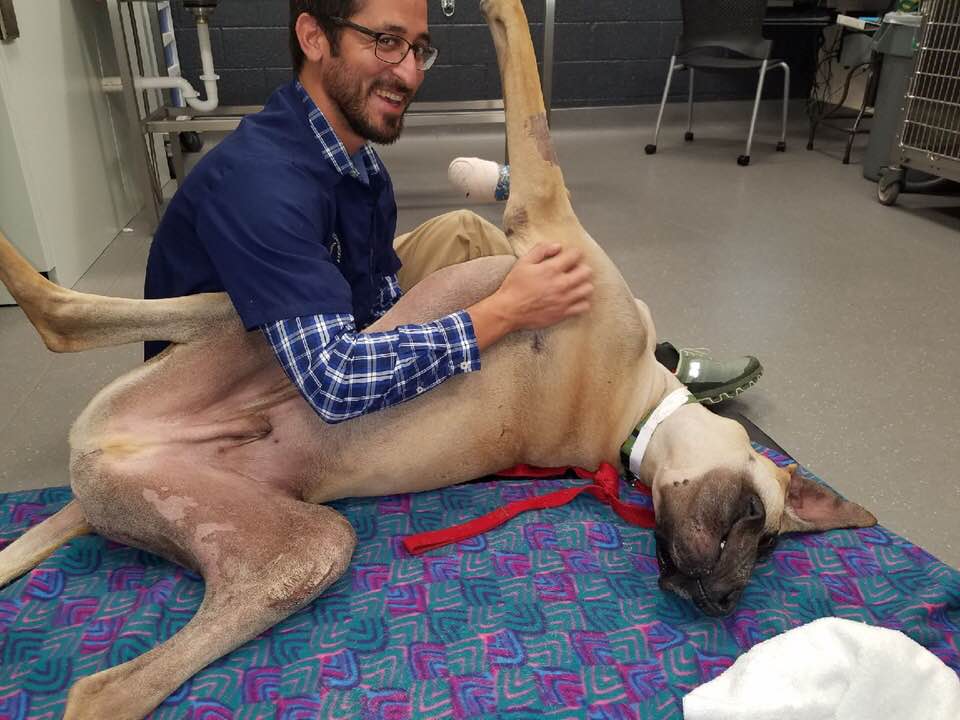 Friday, Aug 26
What a funny guy Simon is!! Here he is during a follow up appointment with one of the many veterinarians who have helped RMGDRI with Simon's veterinary care.
After such an ordeal, many Danes would be reluctant or too stressed to return to the vet for their follow up appointments. Stressed?. . . . Pfffttt, not Simon. In his mind, this is the perfect opportunity to receive massive amounts of free belly rubs!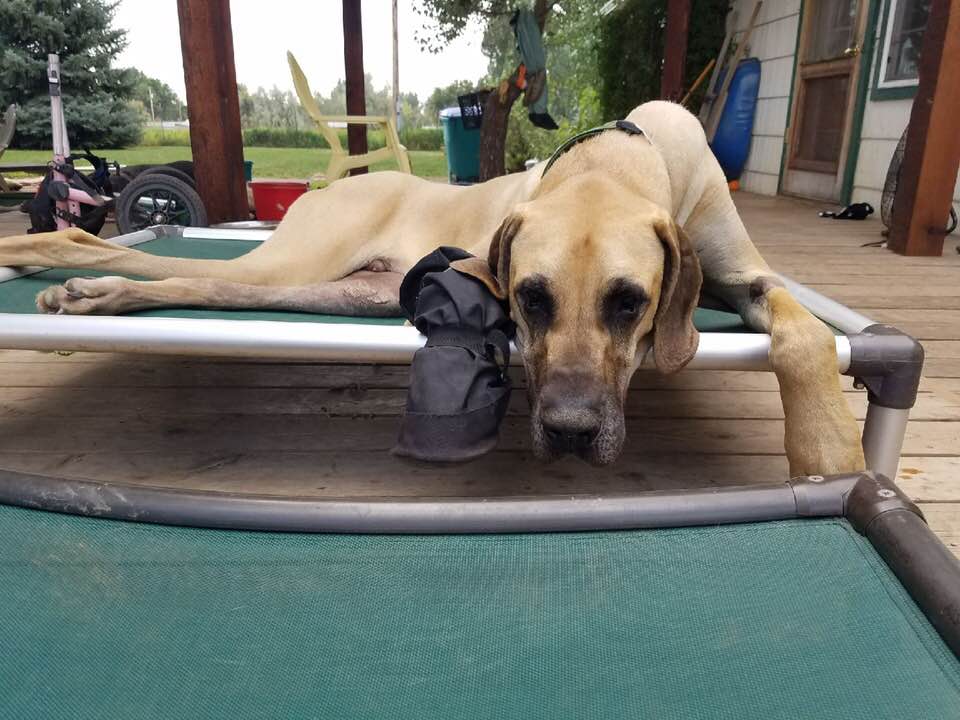 Friday, Aug 30
Simon has had such a turn around in the last month!
His foster mom says, "He's recovering really fast. His next appointment is in a week when he'll get a bandage change and sutures out. His foot pad still has a ways to go before it is healed but he's adapted to the bandage. Now they just have to figure out what the cause is."
Thank you all for your support and continue to send positive, healing thoughts Simon's way.
To donate towards his veterinary care, please click the button below.