2020 Adoptions
Fulfilling our mission one Dane at a time.
Click on the photo to read about our successful adoption stories.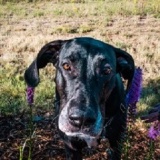 Daisy
Adopted 1.14.2020

info:
Daisy has a home with her new family in Wheat Ridge CO! Daisy will be joining Rockoh, a sweet 2 year old Dane/Lab mix in her new home with Cindy. Daisy will enjoy hanging out in her new very nice back yard where she loves to soak up the sun. She will also have lots of snuggle time on the couch with Cindy and Rockoh, which is her other favorite hobby. Cindy is a volunteer with RMGDRI, and we are so happy that she and Rockoh are welcoming sweet Daisy into their family!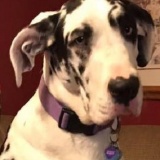 Daisy
Adopted 1.10.2020

info:
Daisy has a home with her forever family in Peyton CO! Rachell, Butch, and their two children Evan and Erin, were so excited to welcome Daisy as a part of their family! Daisy will be the family's 3rd Great Dane, and they agree that once you own a Dane, you will always own a Dane! Daisy will share her home with  Josie, a 9 year old Boston mix, and Raymond, a 5 year old Chihuahua. Daisy will accompany her new family on many walks and camping trips, as well as wherever this active family can take her. We are so happy for Daisy and her wonderful new family!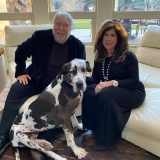 Ruby
Adopted 1.4.2020

info:
Ruby has a home with her forever family in New Mexico! Giovanna and George are previous adopters, having welcomed Caesar into their home back in 2018. Ruby will share her home not only with Caesar, but also Isaiah , who is a 10 year old Dane mix, and a 9 year cat named Joey. Ruby will have lots of love and playtime with Giovanna & Georges' grandchildren who are often there visiting. We are so excited for Ruby and her new family! Way to go sweet girl!!