2019 Successes
Fulfilling our mission one Dane at a time. Read about our successful adoption stories.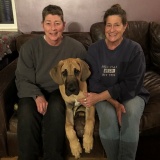 Asa
2.8.2019

info:
Asa has a home with his new family in Salt Lake City, UT! Asa will be Kara & LIz's 3rd adoption with us! Beau, whom they adopted last year, crossed over the Rainbow Bridge in November and left Kara and Liz with a giant hole in their hearts. When they saw that Asa needed a foster home, they didn't hesitate. It was love at first sight! Asa shares his home with Thor, a 12 year old Rottweiler/Shepherd mix, Abilene, an 11-1/2 year old Pit Bull, two cats - Ryder and Pinky, two ducks - Francie and Billy, and a turtle named Ms. Reggie. Asa will not be short on companionship, or love in this family! Way to go sweet boy!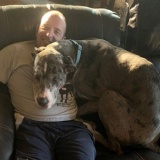 Jax
Adopted 1.18.2019

info:
Jax has a home with his new family in Franktown, CO! Jay and Kira have adopted from us before. They had three Danes at once until two of them passed from old age, leaving behind Angus, who is now 10. Jay & Kira love the breed so much, and were missing their boys, so they decided to foster and help another Dane in need. Jax came into their home, and has filled a big hole in their hearts. They knew he was home to stay! Jax and Angus have 2 acres to run and play on when they are not going for hikes, or snuggling with Mom and Dad! We are so happy for Jax and his new family! Way to go sweet boy!!